"So, is that your thing? Doing cool and weird stuff that no one else does?"
– excited audience member, Eugene, Oregon

Selected Compositions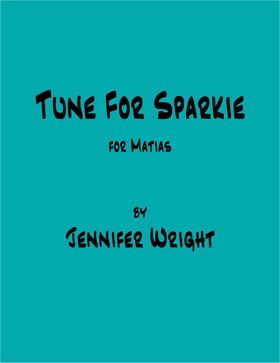 Tune For Sparkie for solo piano (1993)

This is a Latin jazz lead sheet that I wrote as a gift to my husband many years ago – long before he became my husband, long before he was even my fiancé: when he was simply my long-distance boyfriend.

At the time, I thought it was terribly romantic to constantly pine away for an absent beau and write songs about it on rickety, cigarette-burned pianos in the bare-bulb basement practice rooms of music conservatoires. I must say, I feel little nostalgia for those days now, but the song certainly does bring back memories.


---
---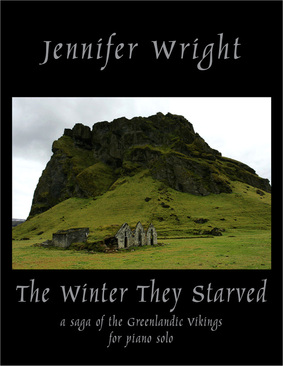 The Winter They Starved: a Saga of the Greenlandic Vikings for solo piano (2007)

This solo piano piece was inspired by the true tale of the Greenlandic Vikings, whose society flourished between roughly 1000 and 1500 A.D. and then completely and mysteriously disappeared. I first learned about this topic in detail in Jared Diamond's riveting book, Collapse, which details the catastrophic and complete collapse of entire human societies. The two chapters about the disappearance of the Greenlandic Vikings haunted me and inspired me to embark on my own research.

Upon their arrival in Greenland, the Vikings found only two areas in the terrain that would support settlement. They imported an agrarian lifestyle which was ill-suited to the marginal climate. By the 1400s, the 'Little Ice Age' was elongating the winters and shortening the growing season, making it harder to produce enough hay to feed their livestock through the winters. The already sporadic supply ships from Norway ceased to arrive entirely as ice permanently clogged the fjords and the settlers were cut off completely from outside support. Undoubtedly there were many factors that contributed to their demise, but the best archeological research we have at present indicates that at least one of the two Viking settlements starved out. My piece is a fantasia-style imagining of what the last year in that Viking settlement might have been like.

---
---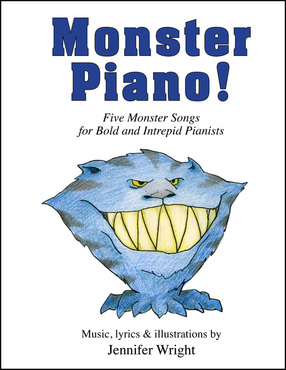 Monster Piano! Five Monster Songs for Bold and Intrepid Pianists for piano students (Levels 1-3) (2012)

The Littlest Monster: he's cute, but working on overcoming it. "I'm a monster and I'm SCARY! You had better watch out when I'm mad! Tall and mean and super-duper hairy, don't you think that I am BIG and BAD?"
Bump in the Night illustrates how problematic it can be when you have a rare and clumsy "Near-Sighted Neppit" living in your attic, especially when your parents don't believe you.
Children for Lunch: the title says it all. "Big ones and little ones, tasty ones too, sweet juicy kids that are easy to chew!" Well, you can't really blame him. If you were a monster, you'd want some too.
Grumpy Grouchy Grimy Grimm: trust me, you would NOT like him! Almost too small to be seen, but he's foul in the extreme. Boogers in his nose, slime between his toes; he sure leaves a monstrous stink behind him as he goes…greasy, grungy, grotty Grimm, we should all steer clear of him!
Monster for Hire is one sleazy character, but he offers an important service. He advertises: "Parents, do you have bad kids on your hands, driving you straight up the wall? When all else has failed and you're at your wits' end, don't worry, just give me a call!" Ten bucks is all it takes to scare the pants off your children and rest assured of future good behavior.

---
---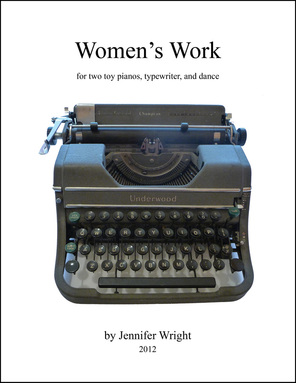 Women's Work for two toy pianos, amplified typewriter and dance (2012)

This piece is part theatrical skit, part dance, part mid-twentieth century costume drama. The musical motifs used are meant to evoke the sounds generated by a typical pre-computer office setting.
As a child, I was fascinated by Sandy, my mother's secretary. My mother ran a physician's clinic out of our home for a time, and Sandy arrived every day to sit alone in a bare room, engulfed in the constant racket of a typewriter. I marveled at this: what could be so important as to warrant all that endless, horrendous noise and effort? I wondered what emotional landscape lay behind her furrowed brow – for surely, she was a real person like the rest of us, yet she spent her days clattering away, doing – what exactly?

Years later I tried my hand at an office job and barely lasted three excruciating months. The office politics, atmosphere and cast of characters were laughably stereotypical and pathetically repellent. The curiousness of these events lodged in my psyche, adding to a vein of inquiry that resurfaces time and again: what does it mean to be a product of our times? Even when we think we choose our roles and fates, how much choice really belongs to us and how much is decided for us? Ultimately, do we even choose how we express ourselves?

These ideas create their own mini-drama in Women's Work. The toy piano, with its restricted range of pitch and expression, is an apt metaphor for the limited roles that women historically were allowed to inhabit. The typewriter is a fitting duet partner, since for a certain period of time – my mother's generation – it was something of the only "instrumental voice" that many first-world women would ever get their hands on. The Boss, in contrast, is free to express himself: he dances.

The premiere performance (video below) was presented on the Cascadia Composers program "Crazy Jane Collaborates!" on November 9th, 2012 in Portland, Oregon with me on dual toy pianos, Grace Shimer on amplified typewriter, and Courtney Allen dancing the part of "The Boss".

---
---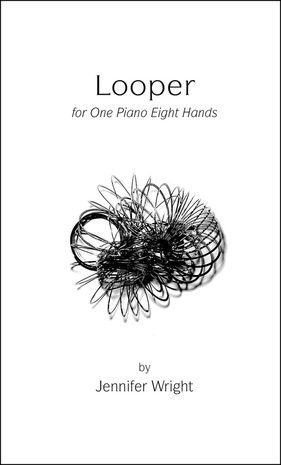 Looper for one piano eight hands (2013)

"Dazzling" - Brett Campbell, Willamette Week

This piece is materially unrelated to the Bruce Willis sci-fi movie of the same name that came out while I was writing it (and, moreover, after I had already chosen the title for it – how's that for an odd sign?), apart from the fact that I have always had quite a soft spot for Bruce. This "Looper" is inspired by that odd, non-productive quality that your thoughts can assume when they cycle around, obsessively looping over in your mind without identifiable direction, perhaps halfheartedly trying to process something, perhaps not. The pattern might be interrupted momentarily, but the mental movie clip spontaneously, obsessively replays, as inexorably as water responding to the pull of gravity.

When I find my mind working this way, I wonder if perhaps this follows from the types of practice we pianists have to do to gain mastery of our material; perhaps it's a universal human trait or simply a quirky personal tendency of mine. It could be a self-constructed sort of meditation, the mind's hankering for a transcendent state where the linear bends around on itself into a little snapshot of infinity. In a way, I like this non-thinking state: it blurs events into a continuum from past to present to future, to the point where you aren't sure which one you're in. Which, come to think of it, is a lot like the way time travel works in Bruce's movie, except with lots of guns and futuristic gangsters. Hmmm…maybe they are related. I don't know. Watch the movie and tell me later. Anyway, Bruce, this one's for you.

Eventually I'll get around to uploading some of the many great (and professionally recorded) audio/video clips I have of different performances of Looper; but this one from 2013 at my "Deca-PDX" Jennifer Wright Piano Studio 10th Anniversary concert is one of my favorites since three of my students worked very hard to present this world premiere. Huge kudos to my students Max Weisenbloom, Olliver Barr and Gina Varesio, who are featured here!

---
---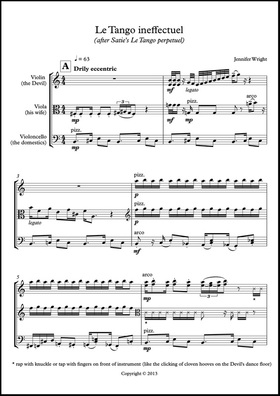 Le Tango Inneffectuel for string trio (2013)

This short string trio, a variation on Satie's "Le Tango Perpetuel" for piano, was commissioned by Bob Priest, producer of the March Music Moderne festival.

Coming soon: a video link to the fabulous premiere performance by the Free Marz String Trio in the closing concert of the March Music Moderne IV Festival (2014) at The Community Music Center, SE Francis Street, Portland, Oregon.




---
---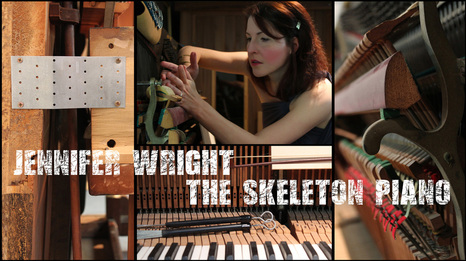 Obscure Terrain (2014-2015) for Amplified Prepared Skeleton Piano and effects

"masterful" - Daniel Flessas, co-host of show "A Different Nature" on KBOO radio, 90.7 FM


For a lot more info about my Skeleton Piano, check out the program for "Piano Bizarro" on my performances page and the visual tour below.

---
Many thanks to Jack Gabel for shooting and editing this rehearsal video of the Skeleton Piano in action:
---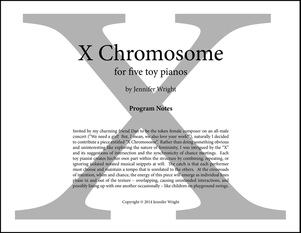 X Chromosome (2014) for 5 Toy Pianos

"piano pandemonium"- Maria Choban, Oregon ArtsWatch

Invited by my charming friend Dan to be the token female composer on an all-male concert ("We need a girl! But, I mean, we also love your work!"), naturally I decided to contribute a piece entitled "X Chromosome". Rather than doing something obvious and uninteresting like explore the nature of femininity, I was intrigued by the "X" and its suggestions of intersection and the synchronicity of chance meetings. Each toy pianist creates his/her own part within the structure by combining, repeating, or ignoring isolated notated musical snippets at will.


The catch is that each performer must choose and maintain a tempo that is unrelated to the others. At the crossroads of intention, whim and chance, the energy of this piece will emerge as individual lines phase in and out of the texture – overlapping, causing unintended interactions, and possibly lining up with one another occasionally – like children on playground swings.

---