Upcoming Events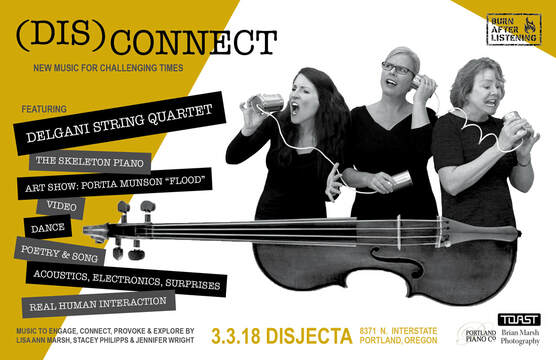 ​March 3, 2018
Burn After Listening: DIS/CONNECT

Disjecta, 8371 N Interstate Ave, Portland, OR

Two feisty new works on a program that endeavors to untangle our expressions and identities in challenging times: seeking common ground, understanding and connection in a pixellated and fragmented world.

The Skeleton Piano returns with the world premiere of "Incognita" - a work for video, Skeleton Piano and live electronics that explores the divisions between our physical and digital selves. (Best viewed with a QR code scanner phone app.)

And DO NOT MISS the world premiere of "One Hot Mess" for string quartet, percussion and fixed media - a shocking electro-acoustic remix that grapples with my reactions to the things that come out of the mouth of POTUS. Featuring the amazing Delgani String Quartet and the impeccable Taylor Long on absurdist percussion!
---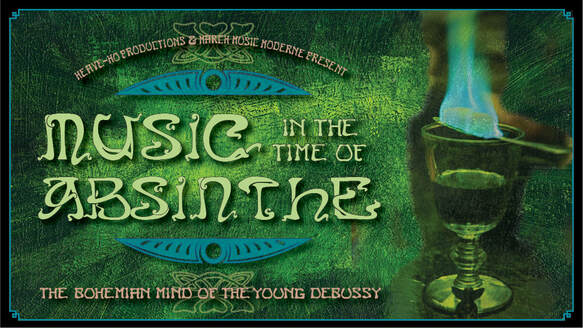 ​March 24, 2018
Music in the Time of Absinthe:
The Bohemian Mind of the Young Debussy
​The Community Music Center, Portland, OR
In collaboration with
March Music Moderne
Classic piano 4-hands with Debussy specialist Paul Roberts
Don't miss the world premieres of two brand-new,
not
-so-classic works!
In
Relatively Minor Infractions
, dual amplified harpsichords meet one ferocious baritone saxophone to make some sassy ruckus - with the talented Dr. Evan C. Paul joining me on second harpsichord and the fearless Patrick McCulley on bari!
And
The Venerable Showers of Beauty Gamelan Orchestra under the direction of Mindy Johnston premiere
Flora, Fauna, Humans, Gods
, wherein East meets West in a unique way - via a toy piano that has been transformed to match Indonesian tuning!
​
People, take note: admission to this concert is FREE!
Delicious French reception to follow
This project is generously supported by
a grant from
The Regional Arts and Culture Council (RACC)

​
---
June 2, 2018
Sound and Fury
concert series guest performance
Art Share Theater, Los Angeles, CA
Jennifer unleashes works new and old into the brave Southern California night!
---
Give me a shout!
jenniferawright (at) yahoo.com |
503-475-2406 | 3656 SE Morrison Street, Portland, OR 97214

Check out
skeletonpiano.com
to see what I've been up to with my Skeleton Piano!