Welcome!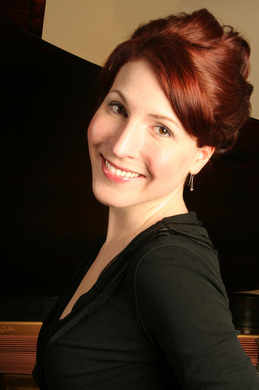 Jennifer Wright, M.M., B.M., is a pianist, teacher, composer, artist of various stripes and passionate aficionada of the creative life.

Her great passions involve exploring the fluid intersection between the arts and creating integrated projects that combine adventurous contexts for modern performance with education, exploration, outreach and entertainment.

Jennifer graduated summa cum laude from the Hartt School of Music in Hartford, CT with a Bachelor of Music in piano performance (along with a Bachelor of Arts in German Studies) and studied for two years at the Stuttgart Music Conservatory and Universität Stuttgart in Germany.

She was awarded several Distinctions for her Masters Degree achievements in performance and musicological research at the Trinity College of Music in London, England in the Historically Informed Piano Performance degree program.

Her studies have also included extensive training in piano pedagogy, jazz and popular styles, period instruments including the harpsichord, solo and group voice, theater and composition.

---
Performance
Jennifer performs regularly as a solo artist and chamber musician and has presented numerous recitals, master classes, and workshops in the United States, the United Kingdom and Europe.

Her eclectic tastes range from the Renaissance to the avant-garde and trend ever more in recent years towards exploring the sonically and conceptually unusual, non-traditional and bizarre to express that which is universally human.

She delights in straying off the beaten path of standard repertoire and engaging audiences with illuminating stories, theatrical elements, and surprising venues and contexts for modern performance.

She has performed in locales from the Leach Botanical Garden in Oregon, jazz cafes in Krakow, and the fishing piers of downeast Maine to the Queen Elizabeth Hall in London, doing everything from accompanying public screenings of silent Charlie Chaplin films to donning period attire to impersonate such luminaries as Agathe Backer-Grondahl, Marie Antoinette and Queen Elizabeth I at the keyboard.

Teaching


Jennifer is a highly creative, effective and innovative teacher who is passionate about promoting joy and excellence in music making.

Her approach combines healthy technique, a curriculum custom tailored for each individual, a wide range of studio events, and theoretical, historical and contextual understanding to achieve a truly remarkable musical education.

She has taught piano full-time since 1998, at arts institutions such as The Hartt School Community Division in Hartford, Connecticut (rated one of the top three university-affiliated arts schools in the United States), in music camps, and in private studios in Connecticut, London, England and her present home in Portland, Oregon.

Jennifer has served as State and Portland District Chairperson for the Oregon Music Teachers Association "Student Composition Celebration" Festivals and frequently adjudicates for piano and composition festivals for the Oregon Federation of Music Clubs and OMTA.

She enjoys presenting workshops on pedagogy, performance and composition for performers, teachers and students of all ages and has published articles in the OMTA Music News and Oregon Musician.


Composition
Jennifer's compositions play with a mixture of the experimental, the visceral and the utterly listenable in a unique and ever-evolving combination of her various artistic obsessions and curious whims: destroying and repurposing pianos; toy pianos (preferably LOTS of toy pianos); performing in period costume (or any outlandish outfit that might serve the occasion); amplified harpsichord; sound sculptures; non-traditional instruments and performance techniques; and general over-the-topness. She has studied composition with sound designer Susan Alexjander.

Jennifer has served as a member of the Board of Directors of Cascadia Composers (a chapter of the National Association of Composers, USA [NACUSA]) and is a proud member of the Crazy Jane Composers, an active group of Pacific Northwest women composers.

Her compositions have been performed at the Portland International Piano Festival, Portland's March Music Moderne festival, Crazy Jane Composers concerts, Portland's Art for the Ears Series in the Pearl, Cascadia Composers concerts, and in solo recitals in the United States, England, and Finland.

Highlights of her works list include "Tune for Sparkie" (1994), a sassy Latin jazz number; "The Winter They Starved" (2007), a solo piano work inspired by the collapse and disappearance of medieval Viking settlements in Greenland; her self-illustrated book for piano students entitled "Monster Piano! Five Monster Songs for Bold and Intrepid Pianists" (2011); "Women's Work" (2012), a theatrical piece for amplified typewriter, two toy pianos and dance; the neo-minimalist "Looper" (2013) for one piano eight hands; the eccentric string trio "Le Tango Ineffectuel" (2014) based on Satie's Tango Perpetuel; "X Chromosome" (2014) for phasing multiple toy pianos that maintain independent and unrelated tempi; and the groundbreaking "Obscure Terrain" (2014), a concert-length suite for her one-of-a-kind instrument/sound sculpture The Skeleton Piano and electronic effects, soon to be combined with live dance choreographed by Agnieska Laska Dancers and videography by filmmaker Takafumi Uehara in a wild multimedia live-performance undertaking.

Her compositions have been called "dazzling" (Brett Campbell, Willamette Week) and "MASTERFUL…a jewel in the crown of MMM IV [March Music Moderne 2014]" (Daniel Flessas, KBOO Community Radio Station, host of "A Different Nature" show), and Maria Choban of Oregon ArtsWatch has been known to shout "[about "Looper"] "I FRIKKIN' LOVE THAT PIECE!!", but Jennifer's favorite endorsement of her playing and compositions remains: "[Piano] Bizarro kicked major butt!" (Bob Priest, creator & producer of March Music Moderne Festival).

---
Feel free to give me a shout!
jenniferawright (at) yahoo.com
503-475-2406
3656 SE Morrison Street, Portland, OR 97214